Business Plans, Diagnostics & Advice
Whether you are just Starting your journey in business, or a well established organisation, it's important to know in which direction you are going and how you will measure success.
Recent analysis into some of the reasons that banks aren't lending reflect poor business planning and thus poor presentation of their case by the owners of small businesses..

A recent survey of 1,000 small businesses, revealed that 42% admitted they had no business plan in place at all, whilst just 1 in 10 said they had used a Business Plan to obtain finance. The same survey also confirmed that 1 in 5 loan applications had been rejected during the past 12 months, indicating that business owners are failing to present themselves in the best light to banks and other lenders.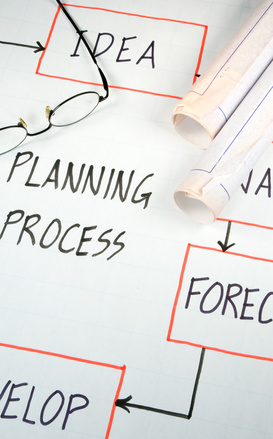 Business Strategy is all about what your business will do, how it will do it and reaching decisions on the resources required on the journey - including finance, people and equipment. After all, you can have the most technically brilliant product, or service in the world, but if the market doesn't need, or want it then your business journey will be over very quickly!
Business Planning is the essential discipline of capturing all of the above information into a document, or route map for your journey. The plan evolves from your Business Strategy and involves the entire team within your business, so that everyone knows their part in moving towards your goals. In the same way that you might periodically consult your journey map, so your Business Plan is a useful periodic reminder in an increasingly hectic and stressful world of "the what" and "the how" of your journey.
Business Diagnostics and Advice are the tools and potential solutions we use to help you to keep going forward. In the same way that a doctor doesn't usually prescribe a medicine without first completing a diagnosis based on the symptoms you present, we don't proffer advice without understanding the issues in your business.
In the hurly burly world of modern business, many business owners don't have the time to stand back and take a look at how their business is performing, or consider how innovation might help to develop their business further. The well worn phrase is: "spending too much time working "in", rather than "on" the business". So we bring that opportunity to your business by providing an outsiders look at your business and providing an honest opinion when compared against the many other businesses we have worked with.
Research continually demonstrates that businesses that obtain external professional advice and support are more likely to improve in business confidence, sales and profitability.
The Solutions:
We can work with you on all of the above aspects of your business to formulate and even write the Business Plan, or leave you with an agreed Action Plan to get you moving to where you want to be.
At whatever stage we get involved, the process all starts with an independent review, or analysis (the Business Diagnostic) so that we understand your business across a range of business functions - including your Goals, People, Customers, Operations, Sales & Marketing, Finance - and are therefore able to offer appropriate advice, coaching and mentoring support.
From our range of contacts, knowledge and practical experience, we can often save you time and therefore money, by signposting you to potential solutions and helping you to navigate through a plethora of information, programmes and schemes that are out there.
Testimonials:
Norman is an exceptional Business Development Professional with a very close attention to detail. His span of knowledge embraces all aspects of the business development spectrum - financial, operational, sales & marketing and business processes. His very strong financial background is underpinned by his depth of all-round business experience - Roy Meredith, Team Leader
Norman Denton Associates Limited Registered in England & Wales No: 07820929
Registered Office Address: 225 Upton Lane, Widnes, Cheshire, WA8 9PB | 07711 284646
VAT No: GB 200 648 641