Executive Coaching and Leadership Mentoring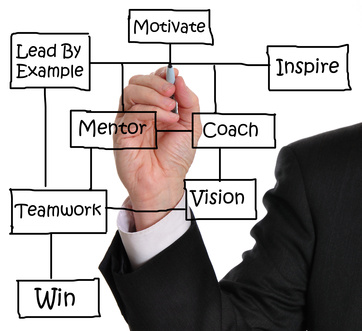 Coaching and Mentoring are essential development tools for driving performance.
They help individuals to unlock their potential to maximise their own performance and are fundamentally about changing people in a way that is beneficial for themselves, their team and their organisation.
In the current Economic climate and with an ever increasing speed of change, effective leadership is crucial to driving success.
Executive Coaching and Leadership Mentoring are essential developmental tools to make those changes in you and your people.
Coaching is used to help people "do things right" by addressing short-term specific issues, whereas Mentoring is a long-term relationship where the Mentor uses their knowledge and experience to give people the skills and confidence to "do the right things".
Both are about unlocking potential and maximising performance.
If you embark on a fitness and weight loss regime, you don't go to the Gym once and expect to cut the fat and add muscle immediately. You have to keep going month after month to see progress. The same rule applies for effective Business Advice, Coaching & Mentoring if it is to drive sustainable growth and improvement to your team performance.
The Small Business Survey 2010 showed that 21 per cent of micro, small and medium sized businesses that sought external advice were more likely to have grown their workforce, compared to 14 per cent that didn't take advice. And, 32 per cent that sought advice were more likely to have increased their turnover.
Organisations report the following benefits from this process
More confident staff
Happier individuals and teams
Staff feel valued
Changes attitudes and improves relationships
Lower staff turnover
Increases in performance
Increases in profitability
Organisational culture changes
All our management and leadership coaches have achieved an ILM Level 7 Certificate in Executive Coaching and Leadership Mentoring as well as having vast experience in either running their own businesses, or in providing support to business leaders. So you can be confident knowing they have the skills, knowledge and experience to perform effectively.
Clients we have worked with, although all business leaders, have a diverse range of personalities, characters, value systems, skills and experience. These include the charismatic leaders, autocratic leaders, visionaries, leaders with little, or no experience, to those with years of leading their organisation.
Testimonials:
Norman has been very supportive adopting a range of roles to suit particular situations - from Mentor to Adviser and back again. The net result is that I'm beginning to see the focus he brings paying off in clarity of direction and renewed business confidence. - Jeff Hardman, Chester
Norman Denton Associates Limited Registered in England & Wales No: 07820929
Registered Office Address: 225 Upton Lane, Widnes, Cheshire, WA8 9PB | 07711 284646
VAT No: GB 200 648 641